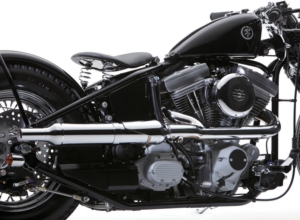 Equipped with the 1340cc HD EVO engine to provide the best balance of engine feel and reliability.

The Type 5 is quintessentially Zero, with a rigid gooseneck frame, same-sized front and rear tires, low-positioned steering, and a forward riding position. Featuring a low, long, classic look, riding the Type 6 is surprisingly comfortable, thanks to thoughtful ergonomic design.
A rigid cycle with a frame structure created to strategically bend, this bike has the flexibility necessary for longer journeys and one-day touring. With the Type 5, you don't have to accept an excessively rigid frame as a tradeoff for having a unique custom bike.

Type 5i Series has three different models to choose from.




With an engine finish that captures the raw look of natural metal, this motorcycle's style is not flashy. Featuring a smooth ride, the Type 5 makes cruising comfortable.






With an open primary, this Type 5 has a vintage flavor, and the eye is drawn to the engine. It features a mechanical dry clutch, which provides a more direct feel.
(The open primary will be covered on new bikes for shipping.)

?These specifications only apply to Japan and the United States.






The "B" is for "Brilliant." The top model of the Type 5 bikes, this eye-catching motorcycle's special HD engine features contrasting black and dazzling chrome plating.



Equipped with the 1340cc HD EVO engine to provide the best balance of engine feel and reliability.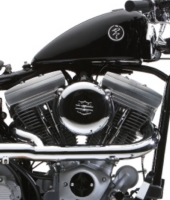 Taking engine performance one step further.
Why all this attention to performance and unparalleled reliability? Without the extra weight and soft rear suspension of a typical cruiser soaking up all the vibrations and brute force of a large V-Twin, these rigid bikes lay down the power like no other. The combination of a rigid frame and so much torque is truly shocking to first time riders. Absolute, reliable, super fine control over the engine is a must.

Simply employing the proven Harley Davidson Evolution motor was not enough for the PLOT engineering team. By employing fuel injection and adopting the ECU platform from Italy's Mircotech, the team was able to assemble a unique engine management system that not only increased output, but reliability as well. Even at different elevations and conditions, this engine management system stays perfectly tuned.

?This information refers to Japanese specifications.


Through in-depth research and development a rigid, yet flexible frame has emerged.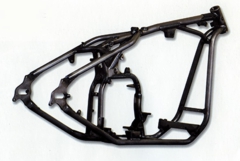 When developing the gooseneck frame, PLOT decided to go back to the drawing board and take an entirely new approach to rigid frame design which can accommodate a number of engine and suspension options. With the goal of creating the perfect balance between rigidity and flexibility, engineers employed new building techniques, constructing a frame using many sizes and thicknesses of steel pipes to create something excellent. By staying true to Zero's design philosophies, using top-grade steel, and employing exceptionally accurate construction techniques, Zero Engineering's rigid frames are of a quality rarely seen.


PLOT engineers know the rules of motorcycle design, which is why you get springer forks like this.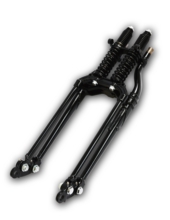 When it comes to springer forks, high levels of design accuracy improve how the bike grips the road when cornering and enhances braking stability dramatically. The same follows when it comes to the cycle's overall rigidity and durability. Expertly crafted for each Zero Engineering bike, these springer forks are produced to take into account all of the machine's specifications, such as the bike's weight and engine output. Product quality is always the priority, as is evident by the Minebea brand bearings, the same that are trusted by top F1 teams, which are integrated into the springer forks.


Appropriate resistance is achieved by combining a brass friction collar with a slide axis.

European manufacturers use Minebea brand bearings for many dominant F1 teams.
| | |
| --- | --- |
| Specifications | JP Type5 |
| Model ID | DRA |
| Length | 2,300mm |
| Wheelbase | 720mm |
| Height | 930mm |
| Wheelbase | 1,600mm |
| Ground Clearance | 100mm |
Seat Height
660mm
Curb Weight
250kg
Seat Capacity
1


Engine Cert.

BKL

Engine Type

Air-cooled V-Twin OHV,
4 Valves per Cylinder


Displacement

1,337cc

Bore and Stroke

88.8mm×108.0mm
| | |
| --- | --- |
| Fuel System | Fuel Injection |
| Starter Type | Electric |
| Fuel Capacity | 7L |
| Transmission | HD 5 Speed |
| Rake (Caster Angle) | 33.2 |
| Tires / Front Specification | 5.00-16 |
| Tires / Rear Specification | 5.00-16 |
| Brakes / Front & Rear | Hydraulic Disc |
| | |
| --- | --- |
| Specifications | EU Type5 |
| Model ID | DRA |
| Length | 2,339mm |
| Wheelbase | 720mm |
| Height | 930mm |
| Wheelbase | 1,600mm |
| Ground Clearance | 100mm |
Seat Height
660mm
Curb Weight
250kg
Seat Capacity
1


Engine Cert.

BKL

Engine Type

Air-cooled V-Twin OHV,
4 Valves per Cylinder


Displacement

1,337cc

Bore and Stroke

88.8mm×108.0mm
| | |
| --- | --- |
| Fuel System | Carburetor |
| Starter Type | Electric |
| Fuel Capacity | 7L |
| Transmission | HD 5 Speed |
| Rake (Caster Angle) | 33.2 |
| Tires / Front Specification | 5.00-16 |
| Tires / Rear Specification | 5.00-16 |
| Brakes / Front & Rear | Hydraulic Disc |
| | |
| --- | --- |
| Specifications | US Type5 |
| Model ID | JRK |
| Length | 2,300mm |
| Wheelbase | 720mm |
| Height | 930mm |
| Wheelbase | 1,600mm |
| Ground Clearance | 100mm |
Seat Height
660mm
Curb Weight
250kg
Seat Capacity
1


Engine Cert.

BKL

Engine Type

Air-cooled V-Twin OHV,
4 Valves per Cylinder


Displacement

1,570cc
| | |
| --- | --- |
| Fuel System | Carburetor |
| Starter Type | Electric |
| Fuel Capacity | 8.4L |
| Transmission | HD 5 Speed |
| Rake (Caster Angle) | 33.2 |
| Tires / Front Specification | 5.00-16 |
| Tires / Rear Specification | 5.00-16 |
| Brakes / Front & Rear | Hydraulic Disc |
・All information presented herein is based on data available at the time of posting, is subject to change without notice.