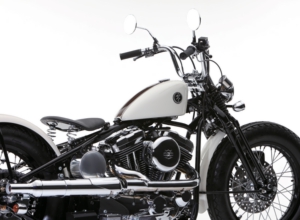 Equipped with the 1200cc Harley Sportster Evo engine: An exhilarating, fast ride through the hustle and bustle of the city

Race-winning technologies developed by Harley Davidson are in the heart of this 4-cam engine. With the Sportster Evo 4-cam engine, riders have greater control over adjustments such as mixing and matching intake and exhaust combinations to increase the output. Bikes equipped with this engine are also lighter and simpler, as the transmission and engine are together in an integrated case. The result is an explosive, powerful feeling off the line in a power package that is not only highly tunable but reliable as well.




With no further ado, the Harley V-Twin.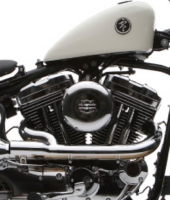 With this rigid frame cycle, riders will feel more than the road's surface --there is also the pulsating Harley V-twin engine, which has become almost synonymous with American motorcycles. But using this powerful engine that explodes off the line was not enough for the PLOT engineering team. By employing fuel injection and adopting the ECU platform from Italy's Mircotech, the team was able to assemble a unique engine management system that not only increased output, but reliability as well.

Even at different elevations and conditions, this engine management system stays perfectly tuned.Why all this attention to performance and unparalleled reliability? Without the extra weight and soft rear suspension of a typical cruiser soaking up all the vibrations and brute force of a large V-Twin, these rigid bikes lay down the power like no other. The combination of a rigid frame and so much torque is truly shocking to first time riders. Absolute, reliable, super fine control over the engine is a must.

?This information refers to Japanese specifications.


Through in-depth research and development a rigid, yet flexible frame has emerged.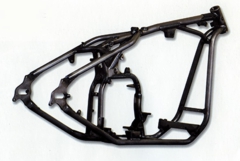 When developing the gooseneck frame, PLOT decided to go back to the drawing board and take an entirely new approach to rigid frame design which can accommodate a number of engine and suspension options. With the goal of creating the perfect balance between rigidity and flexibility, engineers employed new building techniques, constructing a frame using many sizes and thicknesses of steel pipes to create something excellent. By staying true to Zero's design philosophies, using top-grade steel, and employing exceptionally accurate construction techniques, Zero Engineering's rigid frames are of a quality rarely seen.


PLOT engineers know the rules of motorcycle design, which is why you get springer forks like this.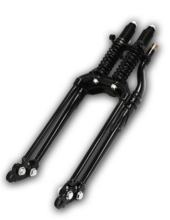 When it comes to springer forks, high levels of design accuracy improve how the bike grips the road when cornering and enhances braking stability dramatically. The same follows when it comes to the cycle's overall rigidity and durability. Expertly crafted for each Zero Engineering bike, these springer forks are produced to take into account all of the machine's specifications, such as the bike's weight and engine output. Product quality is always the priority, as is evident by the Minebea brand bearings, the same that are trusted by top F1 teams, which are integrated into the springer forks.


Appropriate resistance is achieved by combining a brass friction collar with a slide axis.

European manufacturers use Minebea brand bearings for many dominant F1 teams.
| | |
| --- | --- |
| Specifications | JP Type8 |
| Model ID?? | HR3 |
| Length | 2280mm |
| Wheelbase | 760mm |
| Height | 1150mm |
| Wheelbase | 1600mm |
| Ground Clearance | 100mm |
Seat Height
680mm
Curb Weight
220kg

Seat Capacity
1

Engine Cert.
N

Engine Type

Air-cooled V-Twin OHV,
4 Valves per Cylinder


Displacement

1202cc

Bore and Stroke

92.0mm×114.3mm
| | |
| --- | --- |
| Fuel System | Fuel Injection |
| Starter Type | Electric |
| Fuel Capacity | 7 L |
| Transmission | HD 5 Speed |
| Rake (Caster Angle) | 33 |
| Tires / Front Specification | 4.50-18 |
| Tires / Rear Specification | 4.50-18 |
| Brakes / Front & Rear | Hydraulic Disc |
| | |
| --- | --- |
| Specifications | EU Type8 |
| Model ID?? | HR3 |
| Length | 2,320mm |
| Wheelbase | 760mm |
| Height | 1,150mm |
| Wheelbase | 1,600mm |
| Ground Clearance | 100mm |
Seat Height
680mm
Curb Weight
220kg

Seat Capacity
1

Engine Cert.
N

Engine Type

Air-cooled V-Twin OHV,
4 Valves per Cylinder


Displacement

1202cc

Bore and Stroke

92.0mm×114.3mm
| | |
| --- | --- |
| Fuel System | Carburetor |
| Starter Type | Electric |
| Fuel Capacity | 7 L |
| Transmission | HD 5 Speed |
| Rake (Caster Angle) | 33 |
| Tires / Front Specification | 4.00-18 |
| Tires / Rear Specification | 4.00-18 |
| Brakes / Front & Rear | Hydraulic Disc |
・All information presented herein is based on data available at the time of posting, is subject to change without notice.